Dead Letter Society is a GM-less epistolary and journaling game for 1-2 players. Take on the roles of vampires exchanging letters via a secret society, pursue your ambitions, and delve deep into the world you create together.
Today I'm releasing the preview for Dead Letter Society, a journaling game with a difference: choose your genre, describe your world, and be guided by what you write.
About this game
Dead Letter Society is a two-player game of letter writing and journaling. Each player assumes the role of a vampire with hopes, dreams, and fears. During the game, the vampires write letters to each other, asking questions, giving advice, discussing their intentions, revealing secrets, and speculating on curiosities discovered over time. Between writing letters, the vampires delve into topics that interest them and learn more about the world around them.
This game can be played in person, remotely, or a mix of both styles. Modifications for solo play and shorter games are also included.
Quick summary
A vampire journaling game that adapts to your preferred play style and genre.
A letter writing game without waiting. You've always something to do.
Tarot-driven and intention-based journaling. Decide what you'd like to do, then draw and answer a journaling prompt to develop the idea.
You will need
1-2 players
Safety tools of your choice
A place to write your letters and journal
A tarot deck or a method of generating random numbers.
In this preview
1/3rd of the worldbuilding rules, and one complete pre-build world
The complete game includes at least 4 pre-built worlds and rules to create settings of any genre and theme.
25/78 tarot card based journaling prompts.
3/9 game variants, including one (of four) for solo play
A handful of original illustrations, also by me.
The complete game will be illustrated throughout in the same style.
Illustrations made for pages in this preview will be added as they become available.
Absolutely everything else.
Testimonials
"The game feels like something secret and old." - Loira, TTRPG Reviewer and Performer. Read the full review here.
Crowdfunding & print runs
I'm participating in Crowdfundr's Tabletop Nonstop and Zine Month to raise funds for a print run. Every pledge claimed during the campaign contributes one community copy of the complete (digital-only) game to itch.io. If you've enjoyed playing Dead Letter Society, please consider subscribing to the campaign to be alerted when it launches on February 7th.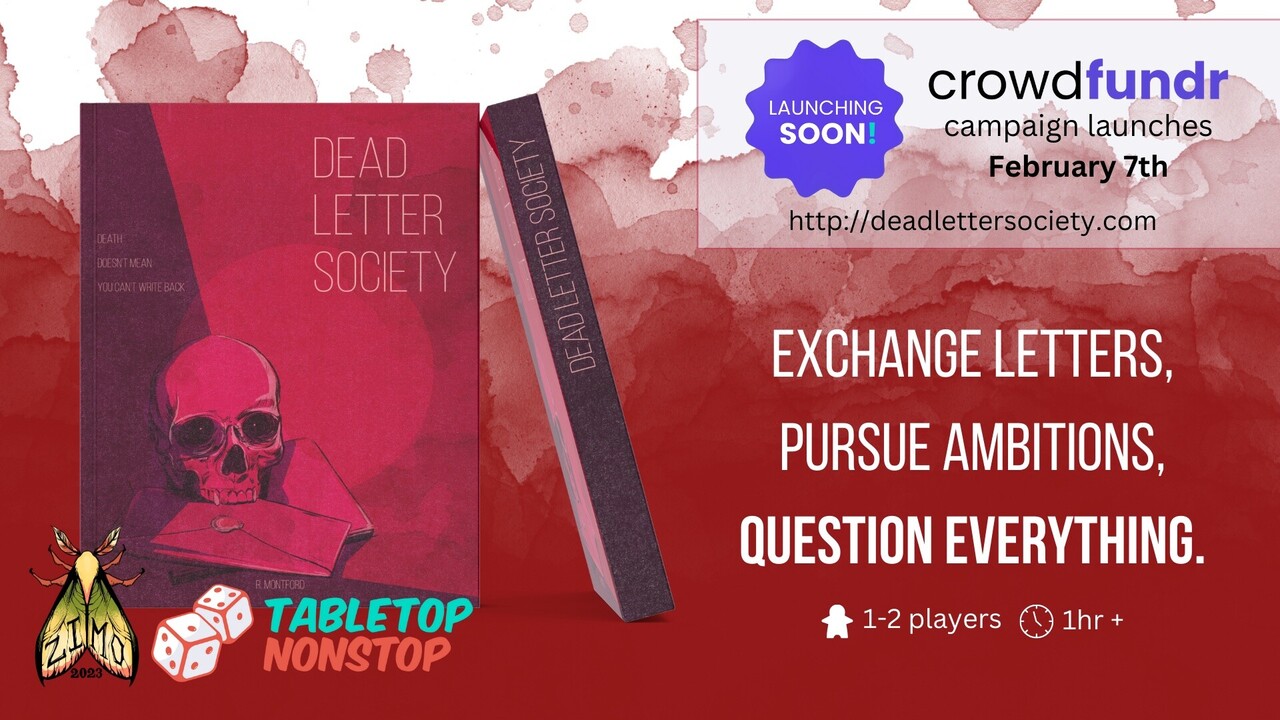 An Early Bat Preview for Subscribers!
If you're subscribed to montfordtales.com, you can pick up your "early bat" copy of the preview right here.
These files will be available on itch.io and DriveThruRPG later today (Jan 30th), and I'll update this section with the relevant links once they're live. But until then, here's a direct download to say thank you for the support!
Update: These files are now all available on montfordtales.itch.io and DriveThruRPG.